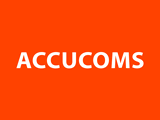 Akadémiai Kiadó and Wiley have signed new representation agreements with ACCUCOMS. Wiley has selected ACCUCOMS to promote and sell its Online Library in the Turkish Corporate and Government sector. Akadémiai Kiadó has expanded its existing representation agreement with ACCUCOMS, which now represents the publishing house in India, Latin America and North America.
Akadémiai Kiadó edits the largest portfolio of scientific, technical and medical journals in Hungary with more than 60 peer-reviewed journals representing a score of scientific fields.
"As a result of the positive experiences with our current partnership with ACCUCOMS in Latin America we decided to extend it to North America and India," said Zoltán Papp, Publishing Director at Akadémiai Kiadó. "ACCUCOMS is active and ambitious, and knows the local customers very well, so they can help us to enhance the sales of our well established high impact journals in these regions where they really have a potential to grow."
Wiley Online Library hosts the world's broadest and deepest multidisciplinary collection of online resources covering life, health and physical sciences, social science, and the humanities.
"ACCUCOMS has built a young and dynamic team in Turkey," said Deniz Lara Yilmazoglu, Account Manager Turkey & Northwest Germany Institutional Sales at Wiley. "Wiley has worked successfully with this team on other projects, so when ACCUCOMS offered us their services to improve our activities in the Turkish Corporate and Government sector, we accepted delightedly and without hesitation."
"ACCUCOMS is proud to represent a wide range of publishers all over the globe," said Simon Boisseau, Director Institutional Sales at ACCUCOMS. "Not only do we represent smaller publishers in global settings, we also represent larger publishers such as Wiley in very specific local markets. Knowing local languages and local business is our forte, and we are glad to see that this specific knowledge and its success are recognized internationally.