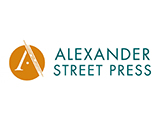 Following the recent launch of its evidence-based acquisition (EBA) model, Alexander Street Press has forged an agreement with England's Leeds Metropolitan University, establishing the publisher as a key resource for metrics-driven curation of library materials.
Effective immediately, patrons of Leeds Metropolitan's library will have unlimited access to Alexander Street Press's complete suite of academic video titles—more than 23,000 titles—for one full year. At the conclusion of this period, university staff will use Alexander Street's detailed metrics to evaluate the most-viewed titles and select those they'd like to incorporate into their permanent collection.
"It is fitting that Leeds Metropolitan University has made the strategic decision to use EBA to advance their streaming video holdings," said Gareth Bish, UK and Ireland Sales Manager at Alexander Street Press, "particularly because this institution was instrumental in helping Alexander Street validate this new business model, which in turn helped make it available for libraries worldwide. This agreement signals Leeds Metropolitan's commitment to improving the quality of the student experience and to supporting staff across the university with innovative teaching and learning resources."
This agreement follows an inaugural deal made with Dundee University, and will further pave the way for libraries worldwide to add the most highly sought-after content to their library collections in a precise, cost-effective way. And because all video content within Alexander Street Press's databases is carefully selected by expert editors, library administrators can rely on the quality and relevance of all materials to the academic populations they serve.
Claire Williams, Head of Learning Resources at Leeds Metropolitan University, said, "Access to this collection fits with our strategy of providing electronic access to established and innovative resources. The collection is already drawing interest and favorable responses from academic staff, who plan to use the material in teaching."
For more information about Alexander Street Press's evidence-based acquisition model, please contactsales@alexanderstreet.com.