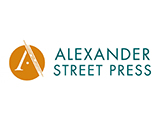 Alexander Street Press has forged an agreement with Jisc to provide access to video resources for colleges and universities in the UK using the publisher's popular evidence-based acquisition (EBA) model.
The EBA agreement gives colleges and universities in the UK the opportunity to have unlimited access to Alexander Street Press' complete suite of academic video titles – more than 33,000 titles – for up to one year at a time. At the end of this period, university staff can use Alexander Street Press' detailed metrics to evaluate their patrons' most-viewed titles and select those they'd like to incorporate into their permanent collection.
Gareth Bish, UK and Ireland sales manager at Alexander Street Press said:
"We are delighted to have reached this agreement with Jisc, not only because of their dedication to providing UK institutions with market-leading academic resources for scholarly research, teaching, and learning, but also because they are highly trusted by the academic library community to negotiate license agreements for digital media via flexible business models such as this.

We are thrilled to have their support for our EBA programme. In return, as part of our commitment to driving and analysing usage, we will be working with Jisc on enhanced provision of usage statistics for academic libraries."
This agreement is the result of heightened interest in EBA, following agreements made in 2013 with the University of Dundee and Leeds Metropolitan University, and will further pave the way for libraries worldwide to add the most highly sought-after content to their collections in a precise, cost-effective way.
Lorraine Estelle, executive director content and discovery and divisional CEO Jisc Collections, Jisc said:
"Jisc Collections is very pleased to work with Alexander Street Press on bringing this evidence based acquisition model to the attention of academic libraries. The model has worked very successfully for some libraries in the acquisition of e-books and we believe it has the same potential in the area of multimedia."
For more information about Alexander Street Press' evidence-based acquisition model, please contactsales@alexanderstreet.com.