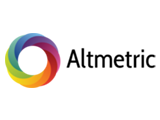 Alternative metrics provider Altmetric today announced the release of Altmetric for Institutions, a web-based software application that enables higher educational institutions to track and evaluate the online dissemination and impact of their authored research.
Altmetric collates mentions of scholarly articles across traditional and social media, blog posts, reference management tools and post-publication peer review sites. In addition to these established sources the data will now also reflect if an article has been cited or mentioned in public policy documents, offering a much needed insight into the real-life application of research.
Incorporating advanced search and filtering functionality, Altmetric for Institutions offers librarians, research administrators, communication officers and faculty themselves an easy and intuitive way of monitoring and reporting on the online attention surrounding individual articles.
Based on data from existing repository or CRIS systems, users are able to view original mentions and summary reports for published articles at the author, group, departmental and institutional level.
Created with input from leading academic establishments around the world, Altmetric for Institutions promises to deliver a much more complete and timely picture of the broader impact of published research than download or citation counts alone can offer.
Dr Juergen Wastl, Research Strategy Officer at Cambridge University and development partner for the new platform, commented; "Altmetric for Institutions has so far proved a very useful tool for monitoring and collating information on the attention that our published research is receiving. It is invaluable in that we can analyse and report on data that would otherwise take weeks or months to collate – and in doing so can better support not only our departments and faculties but also our research networks and initiatives."
Euan Adie, Founder of Altmetric, added; "Altmetric has always placed a strong focus on the quality, breadth, and auditability of our data. This new platform offers institutions a reliable and timely insight into how their research is impacting today's society."