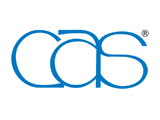 Chemical Abstracts Service (CAS), the world's authority for chemical information, announced today a landmark five-year agreement for SciFinder, the choice for chemistry research, with AstraZeneca, a leading biopharmaceutical company specializing in the discovery, development, manufacturing and marketing of prescription medicines. The long-term agreement guarantees AstraZeneca researchers access to the most accurate, comprehensive and current research, available only in SciFinder.
"SciFinder has played an important role in our research into the development of innovative, life-saving medicines," said Steve Rees, VP, Screening Sciences and Sample Management at AstraZeneca. "This partnership will support our worldwide R&D teams with the tools and knowledge they need to advance discoveries that will ultimately make a difference in the lives of patients across the globe."
An early adopter of Enterprise-Wide Pricing, AstraZeneca has relied on SciFinder to meet the needs of its researchers for nearly a decade, and this five-year agreement is a first for SciFinder within the pharmaceutical industry. It signifies the confidence customers have in CAS as a high-quality information partner providing reliable access to the most up-to-date research in the chemical industry and beyond.
"The trust that AstraZeneca shows in SciFinder by entering into this agreement exemplifies that our content spans a multitude of scientific disciplines while maintaining the highest levels of excellence," commented Chris McCue, vice president of marketing at CAS. "Such a long-term contract sends a clear message that SciFinder is a product the biopharmaceutical industry considers essential for its research needs."