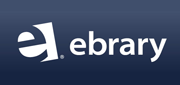 To strengthen its new approach to strategic e-book  acquisition based on three steps: Transition, Diversify, and Streamline™, ebrary®, a ProQuest  business, is expanding its e-book selection across acquisition models.
More than 1,800 new e-books from Wiley and 2,300 new titles from publishers including  Princeton University Press and World Scientific & Imperial College Press will be available in  Academic Complete™, which will offer unlimited access to a growing selection of more than  75,000 quality titles. An additional 6,300 e-books from publishers such as MIT Press, Oxford  University Press, and University of Illinois Press will be available through other ebrary models  including patron driven acquisition, short-term loan, and perpetual archive. Titles can be  ordered through ebrary as well as partners and book vendors such as YBP.
As libraries transition their budgets from print to digital books, diversifying acquisition models  and streamlining the ordering process are key to achieving the greatest return on investment. A  number of ebrary customers are benefitting from this approach.
"SJSU started with a subscription to ebrary's Academic Complete, which is an affordable way to  offer our students unlimited access to a broad base collection: Academic Complete has  something for everyone," said Carole Correa-Morris, Head of Acquisitions at San Jose State  University. "We have also purchased e-books outright, including those chosen by our subject  selectors and requested by faculty. Most recently, we have been examining our Academic  Complete usage statistics to strategically expand our patron driven acquisition program. By  focusing on higher use subjects, we can better determine which titles to add to our  consideration pool and only purchase those that are used. Diversifying models makes sense  financially, and by streamlining ordering through YBP we are able to work more efficiently."
"Two converging trends are driving the need for strategic e-book acquisition: Libraries are  investing a larger percentage of their book budgets in digital from print to meet a growing  demand, and publishers are producing more books electronically," said Kevin Sayar, President
and General Manager of ebrary. "We will continue to work with publishers, librarians, and book  vendors to develop an integrated e-book solution to serve the progressive needs of one very  important common denominator: the researcher."
For details about ebrary's new approach to strategic acquisition as well as the ebrary platform,  which offers robust research tools, a dedicated mobile iOS app, and the ability for libraries to  upload and integrate their own digital repositories with DASH!™ (Data Sharing, Fast), visit  www.ebrary.com.