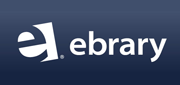 ebrary has developed a  new strategic approach to e-book acquisition based on three steps: Transition, Diversify, and  Streamline™, today announced a solution specifically for medical libraries that includes new  packs in Nursing & Allied Health, Medicine, and Psychology & Social Work. The new,  discounted packs include essential e-books from publishers such as Informa Healthcare, F.A.  Davis Company, and Oxford University Press that are purchased outright under a perpetual  archive model. By combining the packs with other models including subscription, patron driven  acquisition, and short-term loan, medical libraries can achieve the greatest return on their ebook investment.
"As many medical libraries are facing budget challenges, and there is greater demand among researchers, strategic e-book acquisition is becoming a necessity," said Kevin Sayar, President  and General Manager of ebrary. "To affordably acquire a breadth and depth of quality e-books,  medical libraries can now take advantage of multiple acquisition models. In many cases,  diversifying models will be the only way to keep pace with the growing number of books that are  being published electronically."  Diversification is a key component of strategic e-book acquisition. An example of how medical
libraries can diversify models includes the following:
 Subscribe: Offer thousands of e-books with unlimited, multi-user access. ebrary's  subscription collections in Medicine, Nursing & Allied Health, and Psychology & Social  Work continue to grow at no additional cost throughout the subscription term. Libraries  that subscribe may also upload and integrate their own digital repositories with DASH!™  (Data Sharing, Fast) and are never charged an additional hosting fee.
 Patron driven acquisition: Leverage subscription usage statistics to expand access in  high-use subject areas. Strategically narrow the consideration pool based on solid data  and only purchase those that are used.  Media Contact: Lynn Brainard, lynn@ebrary.com or 714.771.4397 Short-term loans on demand: Supplement lower use subjects with no commitment to  purchase.
 Perpetual archive: Purchase essential titles outright including ebrary's new discounted  packs and many Doody's Core Titles.  Medical libraries can order titles directly from ebrary, or they may streamline the ordering  process through ebrary partners such as YBP.
For details about ebrary's new approach to strategic acquisition as well as the ebrary platform,  which offers robust research tools, a dedicated mobile iOS app, and the ability for libraries to  upload and integrate their own digital repositories with DASH!, visit www.ebrary.com.