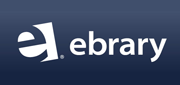 The demand for e-book accessibility, especially on mobile  devices, is growing significantly. In ebrary's 2011 Global Student E-book Survey, announced today and  available at http://site.ebrary.com/lib/surveys, 60 percent of respondents indicated that downloading ebooks onto mobile devices is "very important" – a 16 percent increase over results from a similar survey  that ebrary sponsored in 2008. In ebrary's recent Download Survey, librarians marked the iPad® as  more important to providing offline access than desktops and laptops.
To meet researchers' evolving needs, ebrary®, a ProQuest business and leading provider of e-books and research technology, today announced it has launched a new app for the iPad®, iPhone®, and  iPod touch®. Available on the App Store
SM , the free new app gives researchers an optimized way to  experience authoritative content – both online and offline – from multiple sources. With ebrary's new  app, researchers can access content on the ebrary platform, including e-books that their librarians  acquire from leading publishers and documents uploaded and integrated by librarians with  DASH!™(Data Sharing, Fast). Additionally, researchers can import their own personal research –  outside of the ebrary platform – through the app itself.
To make it easier to use ebrary – with or without the app – ebrary also announced the ability for  researchers to sign-in with their Facebook usernames and passwords.  "We believe it is our responsibility to keep pace with the progressive ways in which students, professors  and other researchers expect to find and use information," said Kevin Sayar, President and General  Manager of ebrary. "Technology will continue to evolve, and information will continue to surge. By  shipping this new app and extending it to other sources beyond our e-book aggregation, we hope to  help researchers more easily access and use the authoritative information they need to be more  knowledgeable and productive." Key features and benefits of ebrary's new mobile app include:
 Freely available with any ebrary product for libraries including Academic Complete™, which  offers a growing selection of more than 70,000 e-books and enables libraries to upload their  own content with DASH!
 Online and offline reading
 Seamless downloading of full titles
 Simple and advanced search
 Multiple navigation controls
 Table of contents with relevancy rankings
 Early check-in of ebrary's e-books
 Copy and paste with automatic citation for offline documents
 User configurable download size warnings
 Import and use documents from other sources
 Available in English and Spanish
 Sign-in with Facebook user name and password
Demonstrations at ALA
ebrary will demonstrate its new mobile app at ALA Midwinter, January 20-23 in Dallas, Texas, in the ProQuest booth (#2007).