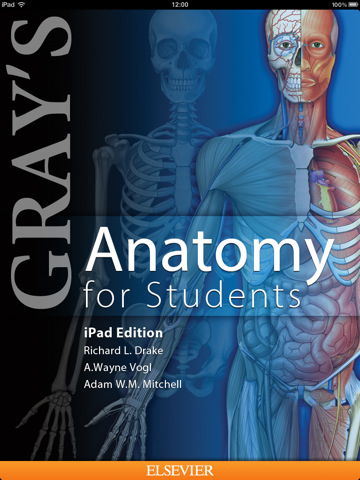 Elsevier announced today its new Gray's Anatomy for Students App, for iPad, is now available on the App Store. The app includes content from Gray's Anatomy for Students, Second Edition.
The Gray's Anatomy for Students App provides access to a clinically-oriented, student-friendly textbook for human anatomy. Beginning with a general chapter on the body, students are introduced to the anatomical terminology, positioning, medical imaging and overview of body systems. The content then progresses through the body in a logical manner, building on the body's complexity as the reader becomes familiar with the subject matter.
"Today, more and more students and clinicians are turning to the iPad for content, so we wanted to provide a version of one of the best-selling textbooks of anatomy where students can access all the leading content without having to carry the actual book," said Dr. Richard Blake, co-author of Gray's Anatomy for Students, Second Edition. "Through a digital, simple version, this app will give students access to anatomical terminology anytime and anywhere."
The Gray's Anatomy for Students App has several features, including:
Complete text and full HD illustrations;
Scrollable thumbnails of all illustrations;
Convenient searchable index;
Pinch and zoom figures;
Mark and label function, including the ability to save images to "My Photos" or adding notes to text and/or figures;
Index to clinical content, surface anatomy, tables and notes.
In its second edition, Gray's Anatomy for Students is highly recommended by both staff and students. A team of authors with a wealth of diverse teaching and clinical experience has updated and revised the new edition to efficiently cover content that is learned in contemporary anatomy classes. An improved format, updated clinical material, and remarkable artwork by renowned illustrators Richard Tibbitts and Paul Richardson make anatomy easier to master. Unique coverage of surface anatomy, correlative diagnostic images, and clinical case studies demonstrate practical applications of anatomical concepts, and an international advisory board, comprised of more than 100 instructors, ensures that the material is accurate, up to date, and easy to use.
The Gray's Anatomy for Students App is available for $79.99 from the App Store on iPad or at 
 http://itunes.apple.com/us/app/grays-anatomy-for-students/id429405125?mt=8