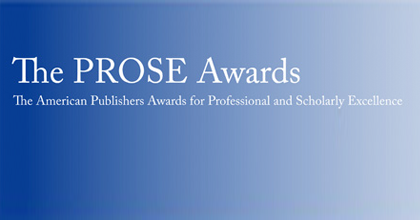 Elsevier today announced that it has garnered top honors and recognition at the 2011 American Publishers Awards for Professional and Scholarly Excellence (the PROSE Awards). The annual PROSE Awards, established by the Association of American Publishers (AAP), recognizes high standards in achievement and innovation in professional and scholarly publishing by giving distinction to the best books, journals, and electronic content, as judged by peer publishers, librarians, and medical professionals.
  SciVerse Hub, Elsevier's platform for search, analysis and research synthesis, and 
  SciVerse Applications, tools that enhance the search and discovery experience, received awards for Best Multidiscipline Platform and for Best Innovation in ePublishing.
Elsevier's book publishing, encompassing print as well as online titles on SciVerse ScienceDirect, was also honored. Four Elsevier book titles won first place prizes in the following categories:
Clinical Medicine: Diagnostic Imaging for the Emergency Physician, by  

Joshua S. Broder

, MD, FACEP.
Multivolume Reference/Humanities & Social Sciences: Encyclopedia of Adolescence, Editors-in-Chief: B. Bradford Brown and Mitchell J. Prinstein.
Multivolume Reference/Science: Encyclopedia of Fish Physiology, by Anthony P. Farrell.
Art Technique: Tradigital Blender: A CG Animator's Guide to Applying the Classic Principles, by Roland Hess.
Honorable mentions went to:
Clinical Medicine: Imaging Painful Spine Disorders, by Leo F. Czervionke MD and Douglas S. Fenton MD.
Economics: Handbook of the Economics of Education, Volume 4. Edited by Erik A. Hanushek, Stephen J. Machin, and Ludger Woessmann.
"It is an honor for Elsevier to be recognized by colleagues in the publishing, library, and medical industry for our meaningful developments towards the advancement of quality science, technology and medical information," said Suzanne BeDell, Managing Director, Science and Technology Books, Elsevier. "The PROSE Awards validate the excellence of our innovative technology platforms and book content and we are proud to be a valued contributor in the community."
Recipients of the 2011 PROSE Awards were announced at the Awards Luncheon on February 2, 2012 in Washington, D.C.  A full list of winners can be found at  www.proseawards.com.