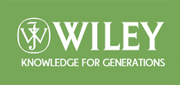 Wiley-Blackwell, today announced that Evolutionary Applications has joined the Wiley Open Access publishing program. All newly published articles in the journal will be open access and free to view, download and share for non-commercial use.
Since its launch in 2008, Evolutionary Applications has attracted very high quality submissions and has attained an Impact Factor of 5.145, as well as winning the 2009 ALPSP award for the best new journal.
Liz Ferguson, Publisher of Evolutionary Applications at Wiley-Blackwell comments: "This is the first journal that Wiley has converted to publish under an open access model. Evolutionary Applications is a great fit with our new Wiley Open Access publishing program; our substantial presence in this area and our growing experience with open access makes us confident that the journal will continue to go from strength to strength and appeal to both authors and readers under an open access model."
Evolutionary Applications continues to publish under the direction of Louis Bernatchez, Editor-in-Chief, and Michelle Tseng, Founding and Managing Editor. "I'm very excited about this new development for Evolutionary Applications," says Tseng. "This open access initiative combined with our double-blind reviewing process, and the fact that we remain the only journal specializing in applied evolutionary biology, reaffirms our status among the most innovative journals in the field."
Louis Bernatchez adds, "Everyone will now be able to read the journal irrespective of specialty, host institution or location. The open access article publication charge model will also allow the journal to grow in size without the constraints of a page budget, and thus keep better pace with our yearly increase in high-quality submissions."
Evolutionary Applications will publish all articles under the Creative Commons Attribution Non Commercial License, which permits use, distribution and reproduction in any medium, provided the original work is properly cited and is not used for commercial purposes. A publication fee will be payable by authors or their funder on acceptance of their articles.
Please visit the Evolutionary Applications website for further information and future updates.