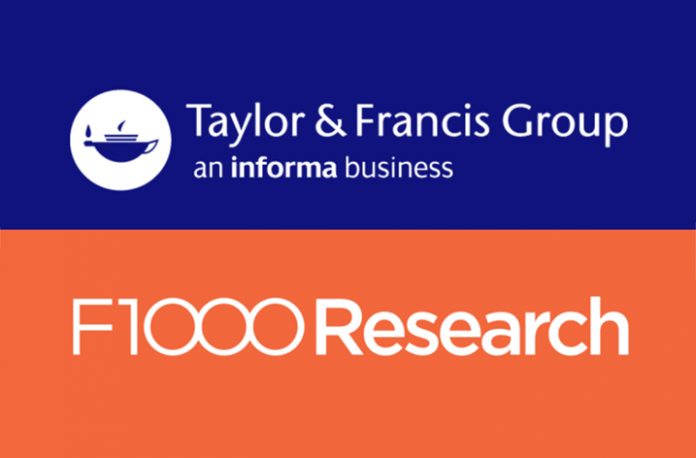 Leading specialist academic publisher Taylor & Francis Group, part of Informa plc, has today announced the addition of cutting-edge open research publisher F1000 Research Ltd.
United by their shared goals of amplifying and democratizing research, the addition is an important further step in strengthening Taylor & Francis' capabilities in open access and open research and extending its range of innovative publishing services.
"The addition of F1000 Research significantly strengthens and extends our capabilities in open research and broader publishing services. It also brings with it a strong culture of innovation and challenging the status quo. This will be invaluable as we evolve to meet the research needs of the 21st century; offering options to create the impact needed to convert research into solutions quickly," says Annie Callanan, Chief Executive of Taylor & Francis.
F1000 Research is a trail-blazer in the evolution of research communication. In 2013, it launched the world's first open research publishing platform, combining the opportunities offered by technology with a passion for identifying new ways to validate and share research.
Building upon the growth and success of its core platform, F1000 Research also provides fully managed, open research publishing services directly to research funders and institutions, including Wellcome, the Bill & Melinda Gates Foundation and the Health Research Board Ireland, as well as to other scholarly publishers such as Emerald Publishing. F1000 Research combines opportunities offered by technology with a passion for identifying new ways to validate and share research.
Taylor & Francis will provide investment, expertise and ongoing support to enable F1000 Research to continue to develop its range of publishing services, supporting continued innovation in scholarly communication and accelerating impact across the whole research ecosystem.
Rebecca Lawrence, Managing Director, F1000 Research Ltd said:
"Having the expertise and support of a large, historic and established publisher will strengthen our ability to innovate in scholarly communications, bringing benefits to the whole research ecosystem. We will be super-charged with the resources not only to maintain our philosophy and collaborative partnership approach, but to grow, flourish and continue to innovate in support of our shared commitments to customers on speed, transparency, quality and impact."
The move also opens up new opportunities to connect the humanities and science communities who currently partner with Routledge and Taylor & Francis to F1000 Research's innovative services.
Whilst continuing to operate independently, F1000 Research will become a key component of Taylor & Francis's range of open research services and Plan S-compliant platforms, complementing its extensive and growing portfolio of Open Access journals and supporting the company's ethos of evolving to deliver what researchers across the world expect by championing choice, whatever their field of research or source of funding.
Vitek Tracz, founder of F1000 Research and Chairman of Science Navigation Group said:
"The default way for researchers to share their findings, the Research Journal, is evolving. F1000 Research proposed an efficient, transparent mechanism to respond to the rapidly growing range of needs and opportunities in the way information is shared. The task now needs input and support from a more established partner and I am happy that in the leadership of Taylor & Francis and Informa, we have found a team who understands and is committed to continuing this evolution."
F1000Prime and F1000Workspace are not included in this transaction and will continue under the ownership of Vitek Tracz.