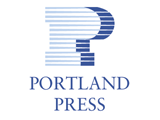 Portland Press Limited is delighted to confirm its participation in the Journal Usage Statistics Portal (JUSP).
The Journal Usage Statistics Portal (JUSP) is a service built in response to demand from the UK HE community. At a time of economic constraint it is essential that libraries can evaluate usage, and make a compelling case about the value of journal subscriptions, and COUNTER compliant data is vital in making such a case. However, obtaining and analyzing COUNTER compliant data can be extremely labour intensive with each library having to visit each publisher's website and download their COUNTER Compliant statistics.
The Portal provides a single point of access for journal usage statistics. JUSP initially focused on NESLi2 publishers but its remit has since been extended to include a wider range of publishers whose content is important to researchers in the UK's higher education community. The Portal uses the SUSHI (Standardized Usage Statistics Harvesting Initiative) protocol to collect the COUNTER compliant statistics, which are then displayed to each institution in an easy to read way.
Caroline Black, Managing Director at Portland Press Limited said: "We are delighted to be participating in this initiative by making our journals available in JUSP. We look forward to working with the JUSP Consortium to provide UK Higher Education with a far more efficient method for collection and assessment of journal article usage."