We are pleased to introduce the Hybrid Open Access Dashboard (HOAD), an openly available data analytics tool designed for academic libraries and their consortia. Developed at the State and University Library Göttingen and funded by the German Research Foundation (DFG), HOAD combines open data from Crossref, OpenAlex, and the cOAlition S Journal Checker Tool. By doing so, the dashboard illustrates the ongoing transition of hybrid journal portfolios included in transformative agreements to full open access.
How does it work?
HOAD provides interactive charts and tables for exploring the openness of over 12,500 hybrid journals included in 400+ transformative agreements. These are derived from curated and publicly available cOAlition S Journal Checker Tool data. HOAD allows users to gain a general overview and analyse hybrid journal portfolios of selected publishers. Throughout the dashboard, users can compare the global hybrid journal landscape with the situation in Germany since 2017.
As an important aspect, users can explore hybrid open access across Creative Commons licences over time and compare licence types offered by publishers. Notably, Springer Nature journals predominantly adopted the CC BY licence, aligned with the preferences of Plan S, whereas Elsevier and Wiley hybrid journals still use the more restrictive CC BY-NC-ND licence for a substantial share of articles (see Figure).
Users can also explore variations in open access adoption among different countries. The view on the top productive countries shows that lead authors from the United States, China, and India published open access in hybrid journals to a much lesser extent compared to their European counterparts. In contrast, countries like Sweden, the Netherlands, Switzerland, the United Kingdom and Germany have achieved substantially larger open access shares, likely due to the wide implementation of transformative agreements.
Another important aspect assessed by HOAD is the availability of openly accessible metadata. Users can identify publishers that provide comprehensive metadata for their open access articles via Crossref. The metadata assessment includes open licences, abstracts, information about Text and Data Mining (TDM), authors' ORCID, and funding. By highlighting gaps, HOAD supports library consortia in monitoring and negotiating improvements for open metadata in transformative agreements.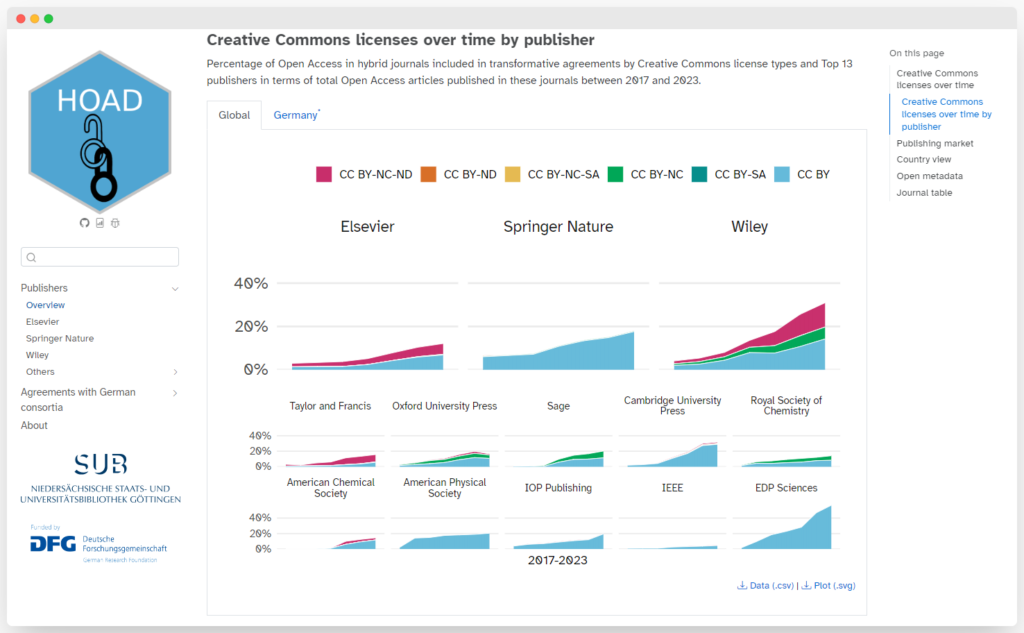 Screenshot showing the Hybrid Open Access Dashboard (HOAD) view on Creative Commons licences over time by publisher. Users can switch between the global view and the view on the consortia agreements for Germany. The side navigation allows searching and browsing of publisher-specific and Germany-specific hybrid journal portfolios.
Feedback gained
In March 2023, we announced the beta launch of HOAD through professional mailing lists and conducted public webinars to introduce the tool and gather feedback from potential user groups and other stakeholders.
During this process, we received valuable input from publishers asking about how to improve their metadata, specifically regarding open licences. With our regular data updates, we ensure that these metadata improvements are promptly incorporated into HOAD. Additionally, some publishers helped us to identify journals that were no longer part of their hybrid journal portfolios due to a change of publisher. This underlined the need to make transfers of journals between publishers more transparent in future releases.
We were delighted to engage not only with German consortia but also with representatives from other countries. National library consortia, who have been actively monitoring consortial transformative agreements, highlighted HOAD as a handy tool for benchmarking their progress with the general trend. They expressed interest in incorporating their own curated journal data, and suggested additional analytics about the use of green open access, funding acknowledgement, and open access spending. These aspects, not currently covered by HOAD, highlight promising areas of future development.
Both publishers and libraries had various inquiries regarding the data. Some requested easy data reuse options, while others sought clarification on our methodology. In response, we have implemented a download option for tables and charts to facilitate data reuse. To ensure transparency and reproducibility, HOAD data is openly available, along with the computational steps involved in compiling the data. Furthermore, we have commissioned a comparison of our data with Scopus and look forward to sharing the results in the near future.
What's next?
As cOAlition S announces the end of financial support for transformative agreements by next year and the slow progress of open access in transformative journals persists, comprehensive monitoring approaches like HOAD are becoming even more crucial. While the project's funding from the German Research Foundation has concluded, we remain committed to keeping the data up to date. We invite community engagement through Github and welcome discussions with national library consortia and other stakeholders to further customise HOAD to specific needs. Feel free to contact Najko Jahn.