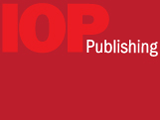 IOP Publishing and Astro Ltd have announced a new five-year partnership to publish two established journals in the field of laser physics, Laser Physics and Laser Physics Letters.
As a result of this new deal, IOP will begin publishing Laser Physics and Laser Physics Letters in January 2013. In addition, Laser Physics Letters will be free to read on the IOP journal platform, iopscience.org, from July 2012 until the end of December 2012.
Under the new arrangement IOP will take responsibility for the production, sales and marketing for both journals. Astro Ltd will continue to manage the peer-review process in conjunction with the journal's Editorial Board.
Olaf Ernst, Commercial Director of IOP Publishing said "We are delighted to enter into this new partnership with Astro Ltd. The journals are a good fit with the existing IOP portfolio and this move will give our customers even greater coverage of this important area of discovery and further strengthen our ties with the laser physics community."
Alex Yevseyev of Astro Ltd said "We are pleased to enter this new relationship with IOP Publishing and are looking forward to working with them to capitalize on their extensive experience and expertise to help further develop the journals and build on their existing strengths."