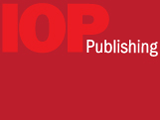 IOP Publishing has announced the launch of article level metrics on its journal platform IOP science.
Article level metrics are increasingly being used by authors and readers to view the wider impact of an article beyond traditional citations. The metrics also provide a new way for readers to discover content.
The first article level metrics features have been launched across 36 journals, providing a mixture of article usage data and data from third-party services. Article usage data include the total number of article downloads and video abstract views. Data from third-party services are captured from CiteuLike, Mendeley, Connotea and Nature Blogs, in addition to citation counts from CrossRef. Data from third parties are displayed in real time, a unique feature of article level metrics on IOPscience.
Graham McCann, Head of Product Management and Innovation, IOP Publishing said, "Our authors are increasingly under pressure to prove the impact of their research and by aggregating these data we are helping them get the recognition they need. We are committed to providing researchers with the best publishing and reading experience and look forward to adding more metrics over the coming year."
Future plans for this project include the addition of more article level metrics from relevant third-party services and the graphical presentation of the usage data to further enhance their value to authors and readers.
Article level metrics are part of IOP's ongoing Article Evolution project, launched in September 2011 to improve the online delivery of research articles, enabling readers to interact with research in new ways.
For more information go to iopscience.org/article-level-metrics.