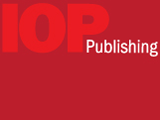 Dr Matthew Salter has been announced as the new Publishing Manager for Asia Pacific at IOP Publishing. He will take up his role on 14 December 2013 and will be based in IOP Publishing's Tokyo office.
Dr Salter has a wealth of experience, having worked in both science research and publishing roles. He has a PhD in organic chemistry and has worked at King's College London and the University of Tokyo in lecturing and research positions. More recently Dr Salter has worked as Publisher, Asia Pacific, for Macmillan Science Communication, having been at the organisation for more than 5 years. While a native English speaker, Dr Salter also speaks Japanese and Mandarin Chinese.
He joins Dr Tim Smith in the role of Publishing Manager. Dr Smith is based in the Bristol office.