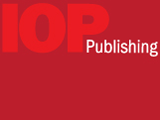 IOP Publishing promotes the development of new and innovative technologies to speed and facilitate scholarly research and is now compliant with two CrossRef initiatives, FundRef and CrossMark.
FundRef provides an easy way for funders to see the articles that have been published from the research they funded. Supporting a standard way of reporting across the scholarly publishing arena, it also helps researchers to acknowledge their funding sources. When authors submit their articles using ScholarOne Manuscripts, IOP Publishing now collects the names and grant numbers of funding agencies, using a standard taxonomy of funder names, and displays them on article pages on IOPscience. The data is also deposited with FundRef.
Through the implementation of CrossMark , 2015 content published on IOPscience will carry the CrossMark logo which researchers can click on to read a status update for the article, acting as a cross-publisher standard to notify researchers of corrections to published content.