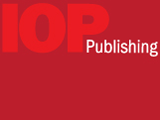 IOP Publishing (IOP), one of the world's largest publishers of scientific information in physics and the related sciences, today announced an agreement with Boston-based publishing technology company ReadCube to increase the discoverability and enhance their articles within the ReadCube web, desktop and mobile environment.
Thirty-four journal titles, including the Journal of Physics series, are now fully discoverable via ReadCube's web, desktop, and mobile reading portals, plus search engines and recommendation feeds.
"Supporting the dissemination of scientific research is paramount to our mission and we are pleased to collaborate with ReadCube to put their innovative technology to work for our community." said Julian Norman, Senior Product Manager at IOP.
All indexed IOP articles viewed within the ReadCube's free web, desktop and mobile apps will feature enhancements like hyperlinked in-line citations, annotation tools, clickable author names, integrated altmetrics, and direct access to supplemental content.
"IOP Publishing is one of the world's premier scholarly publishers," says Robert McGrath, CEO and Co-founder of ReadCube. "We're excited to join IOP's collection with our innovative reading experience in support of scholars, researchers, and curious minds worldwide."