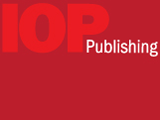 IOP Publishing (IOP) is delighted to announce that it is participating in a pilot that will enable access to journal content licensed by Jisc Collections to eligible staff working across the NHS in England, Scotland, Wales and Northern Ireland.
AAAS, Annual Reviews, Elsevier, Nature Publishing Group, Oxford University Press, Springer, and Royal Society of Chemistry have also agreed to provide a free trial access period for up to one year in most cases.
The Finch Report recommendation stated that during the period of transition to open access publishing worldwide, in order to maximise access in the HE and health sectors to journals and articles produced by authors in the UK and from across the world that are not accessible on open access terms, funds should be found to extend and rationalise current licences to cover all the institutions in those sectors.
Jisc Collections licenses academic research content for the academic higher education sector and has previously considered how it might extend its licence agreements to incorporate access by NHS users in a 2012 pilot involving Academic Health Science Centres in England.
This announcement closely follows the launch of the Access to Research project, in which IOP is also participating. The Access to Research service is gives free, walk-in access to a wide range of academic articles and research in public libraries across the UK.