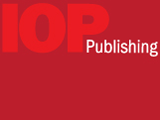 The 2012 Impact Factors, published by Thomson Reuters, once again show growth for many of the journals published by IOP Publishing (IOP) for the ninth year running.
This year, 33 of the titles published by IOP have seen an increase in citations from last year. Additionally, 26 titles have had an increase of over 5% and 53% of IOP's journals have Impact Factors above 2.000.
Dr Nicola Gulley, Editorial Director of IOP said: "The Impact Factor continues to be a widely recognised measure of the quality and prestige of a journal and we are pleased to see increases in the Impact Factor for the majority of our journals.
"However, we know that our authors are under more and more pressure to look at a range of measures to evaluate the impact of their work. Alongside the Impact Factor we also publish article level metrics to provide authors with information that reveals the potential wider impact of individual articles.
"We would also like to take this opportunity to publicly acknowledge the hard work undertaken by our authors, referees, editors, boards and publishing staff in maintaining the high standards of our journals."
There were high performances from individual journals including:
– Journal of Physics G: Nuclear and Particle Physicsincreased by 27% to 5.326.
– Journal of Physics B: Atomic, Molecular and Optical Physics increased by 8% to 2.031.
– Bioinspiration & Biomimeticsincreased by 24% to 2.142.
– Science and Technology of Advanced Materialsincreased by 7% to 3.752. Published in partnership with National Institute of Materials Science.
– Journal of Opticsincreased by 27% to 1.990.
– Nonlinearity increased by 16% to 1.602. Published in partnership with the London Mathematical Society.
Our full results will be published on IOPscience shortly.