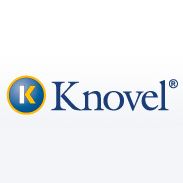 Knovel, the leading provider of a Web-based application integrating technical information with analytical and search tools, today announced the addition of two senior executives to its management team – Lou Desiderio as Chief Financial Officer and Steve Dunn as Senior Vice President of Global Sales at Knovel.  Collectively adding more than 45 years of experience to the management team, both executives will provide strategic guidance as the company accelerates growth internationally and continues to evolve its product to ensure engineers find answers to technical questions fast.
"Knovel enters its second decade of business with sustained year-over-year growth, high annual subscription renewal rates and global demand for our award-winning product," said Chris Forbes, CEO and president, Knovel.  "Early this year, we announced plans to increase staff by more than 25 percent, and we are well on our way.  In May we added an EU-based sales and marketing team.  Now, we've expanded our management team to provide leadership and structure as we continue the path of growth and profitability. Steve and Lou offer a wealth of experience and will be tremendous assets to Knovel."
Joining as Knovel's Chief Financial Officer, Lou Desiderio brings 25 years of financial and operations expertise. Prior to joining Knovel, Desiderio held senior finance roles at several public and private companies in the technology and professional services industries.  Desiderio has extensive experience in strategic planning and business development, raising capital, and advising on mergers and acquisitions. As Senior Vice President of Global Sales, Steve Dunn will use his 20-plus years of experience building global sales organizations in both private and public software companies to drive Knovel's worldwide sales and meet targets for revenue growth and customer retention. Prior to joining Knovel, Dunn was Dyadem Corporation's Vice President of International Sales and Global Alliances, where revenue doubled in the past two years leading to a 2011 acquisition. Previously, Dunn was a company officer at MatrixOne and Workgroup Technology. Dunn was a key contributor to each company's rapid revenue growth enabling an IPO for both.