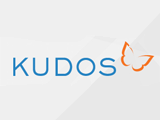 Kudos (www.growkudos.com), which helps maximize the reach and impact of research publications, is proud to announce that it has been awarded the 2015 ALPSP Award for Innovation in Publishing. The award was presented at the ALPSP International Conference at London Heathrow; the judges "were particularly impressed with the fact that [Kudos] is not a closed community – it can be used for any publication with a CrossRef DOI, works across all publishers and platforms and offers a single view for the author and publisher to see which communications channels are most effective." The award was collected by the three co-founders of Kudos, pictured below (L–R): David Sommer, Melinda Kenneway and Charlie Rapple.
"This is a wonderful milestone for Kudos," says Melinda. "We're grateful to the ALPSP judges for the recognition, and to the fantastic group of publishers who have helped to support our development. Kudos demonstrates that there is plenty of opportunity for innovation within current publishing models and processes, and we're excited about how today's success can propel us towards fulfilling our vision of a world where research has greater impact, and researchers benefit from more widespread recognition."
The award is in recognition of Kudos' services for researchers and publishers, which launched in May 2014. Researchers have free access to the Kudos platform, where they can explain their work in plain language, and generate trackable links for managing communications around their publications – across all their publishers and communications networks. These activities are then mapped against views, downloads, altmetrics and citations to provide a rich understanding of which channels and actions are most effective for broadening reach and impact. Kudos for Publishers aggregates these insights to inform PR and marketing decisions, while also providing publishers with better visibility of authors' publicity efforts in order to better support and amplify those efforts; the company will shortly launch a comparative service for institutions.
The cross-community appeal of Kudos is reflected by the fact that it is the only product to have won both the ALPSP Award for Publishing Innovation and the Charleston Advisor Readers' Choice Award for Best End User Product.