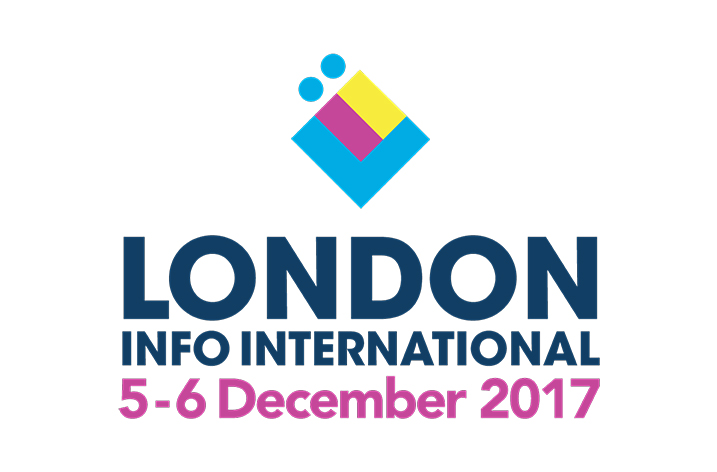 London Info International 2017 announces three core conference themes:
Planning for uncertainty
Networks, personalisation and the market of one and
Impact, ownership and rights
Paul Blake and Vincent Cassidy, co-chairs of the London Info International Conference have announced the conference themes for this year's event.
The conference will pose the questions: What happens next? What will the information landscape look like in 5 or 10 years' time? Who will be the stakeholders? What can we do today that will prepare us for tomorrow? Most of all, the event is a celebration of everything that actively enables the information community to be at the cutting-edge of change affecting industries globally.
This year's conference will focus on three core themes
1.Planning for uncertainty
The world around is changing rapidly and it is increasingly difficult to rely on the comfort of traditional social and political reference points.  Faced with shifting and new strategic and financial challenges how do we navigate a course?   In this session we reflect on the impact of the last year on our industry and how to prepare for the future.
New realities, new rules – the information industry in the post Brexit, post Trump world
How the economic upheaval of post Brexit, post Trump world is changing the information economy
The impact of this new landscape on research funding, regulation, budgets and innovation
Trusting what you trust – retaining information integrity in the age of fake content
Evaluating fake news and fake content – getting behind the spin
Verifying research and findings in a world of proliferating and diverse sources
Information security, risk management
2.Networks, personalisation and the market of one
As informed and engaged users meet increasingly atomised information in the networked world, both information consumers and information providers strive towards personalisation.  Is personalisation the endpoint of information networks and what does this mean for the information chain?
Fostering the educated information user – increasing engagement and literacy, while also learning from users themselves on how they want to engage with information services  
Building information literacy, encouraging engagement and educating users to become more savvy information consumers
Building communities and engagement models for information services using social media and how to measure the return on investment
Using UX techniques to understand the needs of information users
Metrics and analytics for understanding user behaviour
Trip advisor for journals – predictive tools and scientific discovery
Search in an age of mistrust – how to make sure your searches are accurate, valid and trustworthy
Manipulation of results by search engine companies – how to understand and interpret the customisation and adaptation of search results by individual search engines
Improving your search queries, precision, and recall
Managing the discrepancies between pages and datasets presented by search engines, matching search results with archival information and validating search results
Searching multimedia content – video, photos and audio
The emergence of a new generation of information and content technology – is this the birth of an infotech sector?
New generation information, content and publishing tools – case studies of companies and information services using new tools to transform their business or approach.
At the cutting edge – the role new emergent technologies like artificial intelligence and augmented reality have in information content creation and distribution.
How technology is shifting the way information is consumed by users.
Winning the context game – providing information to users at the right moment and in the right context
Turning data into actionable, context sensitive information for users – techniques, technology and tools
The role of new technologies in providing a more personalised experience to information users
Managing big data in an information setting – how to exploit the opportunities of ever richer and larger datasets
Setting up information repositories for a context sensitive future – the role of text and data mining, machine learning, bio informatics, automatic extraction and algorithms.
3.Impact, access, ownership and rights
The open agenda is transforming our landscape.  Research funders are exercising their rights on publication outcomes, researchers are more able to influence the impact of their research and the fragmentation of information in the networked world presents opportunities and challenges in equal measure.
Demonstrating value – showing the measurable and indisputable value of information in uncertain times
Usage metrics: how to analyse and leverage usage data
Using analytics effectively to simplify your message and communicate the value of information
ROI models for information and the impact of information professionals to the bottom line
Managing budgets in an environment that also demands innovation
Information rights under stress – how can the information industry adjust to the challenges of a growing low or no pay, sharing culture among information consumers
The real relevance of copyright in a world where consumers openly share copyrighted information
Copyright literacy and education – what information professionals need to know about copyright law
Legal rights in reusing scientific and business information – is it time to rethink our approach? Collaboration across the industry to explore new models.
Authentication – how to replace IP, SSO, Open Athens
The Open agenda – open science and the politics of change
When public policy meets the free market – impressions from the research community
Open access – how should a subscription publisher stay in the game?
Open archives – who will provide access to distributed open data?
Open data quality, accessibility, usability and analytic tools
Economic considerations – will institutions and publishers be better or worse off?
Universities as publishers – a library inspired 'counter revolution'
We're planning an inclusive event. Our invitation to participate is open to everyone in the information world. We're looking for real-world experiences, insightful stories, unique perspectives and good work – whether you're a senior information professional, midway in your information career or just starting out.
Submit a speaker proposal
In chairing the conference, we see ourselves as acting as a conduit to bring the information community together – and, by submitting a speaker proposal, you'll have the chance to create with us a unique and special event.
On our conference  , you'll find a full list of themes, as well as an online form to submit your speaker proposal. The deadline for submissions is Friday April 21st. At this time, we're just looking for three or four paragraphs outlining your idea.
We're looking forward to seeing your proposals.
Paul Blake
Vincent Cassidy
Co-chairs, London Info International conference