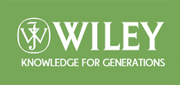 Wiley-Blackwell, today announced the launch of Cancer Medicine, a new Wiley Open Access journal. Cancer Medicine is a peer reviewed, open access, interdisciplinary journal providing rapid publication of cutting edge research from global biomedical and clinical researchers across all the oncologic specialties in cancer biology, clinical cancer research and cancer prevention. The journal's promise of full global reach is reinforced by its editorial leadership and support from prestigious journals and societies. Cancer Medicine has unprecedented support from three major cancer societies: American Cancer Society (ACS), Union for International Cancer Control (UICC) and Japanese Cancer Association (JCA).
Chris Graf, Publisher at Wiley-Blackwell for Cancer Medicine speaks about the societies' involvement in the new journal, "We are thrilled that the ACS, the UICC, and the JCA are collaborating with us to launch our new open access journal, Cancer Medicine. This unique partnership of top-flight organizations reaches around the globe and is a great fit for Cancer Medicine's truly global editorial ambitions."
Jesper Konradsen, Journal Publishing Manager adds, "We believe that by supporting the journal these societies lead the way for others by showing that while publishing models may change, the core value of successful journals remain the same: to serve as the forums for what the research community considers the most significant current research."
Cancer Medicine is steered by Editor-in-Chief Dr. Qingyi Wei, a highly published and cited author based at the world's leading cancer research center in the United States. Dr. Wei's previous editorial work includes a role as a Senior Editor on the American Association for Cancer Research's journal Cancer Epidemiology, Biomarkers & Prevention. His research is aimed at identifying individuals at high risk of developing cancer.
Dr. Wei comments, "I am delighted to introduce Cancer Medicine, which will allow readers to have fast access to the most up to date global collaborations in cancer research and international approaches in practicing cancer medicine, as well as highlighting key achievements from the integration of basic, clinical and preventive research of cancer. In the years to come, I will work closely with the Wiley-Blackwell Cancer Medicine team to provide timely and impartial service to all contributors and readers, who will, without a doubt, make Cancer Medicine a success."
The journal is open to submissions now and aims to publish its first content online in Spring 2012. Please visit the journal's website www.cancermedicinejournal.com  for further information and future updates.