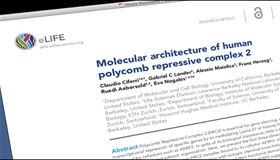 Although Utopia Documents enhances and makes interactive every PDF, from any publisher, those published by Springer, BMC, PLOS, eLife, Portland Press, and the American Society of Plant Biologists have extra features enabled.
These PDFs, when being read with the free scientific semantic PDF reader Utopia Documents, make navigation of scientific information, including the most up-to-date literature and databases, easier and more convenient than it has ever been. In-text direct reference links, exportable tables, links to a great variety of resources (generated on-the-fly), article level metrics, citation formatting options, look-ups, among others, make life appreciably easier for researchers and students alike. Sharable comments, domain-specific annotations, 3D renditions of molecule structures, and the like, complement the range of features Utopia Documents offers. Utopia Documents is available for Mac, Windows, and Linux. More details about bespoke enrichments are available from Utopia Content Services http://utopiacontentservices.com/
About Utopia
Utopia Documents is a free PDF reader that connects the static content of scientific articles to the dynamic world of online content.
It enables publishers to bring their content to life. And it enables readers to get the most out of the scientific literature. The standard features of Utopia Documents work with any PDF, but publishers can have Utopia Documents 'primed' to bring out extra features in the PDFs of their publications. Features such as the incorporation of their article-level metrics, the exportability of tables into a spreadsheet, the linking of in-text references not only to the full reference, but to the actual article that is being referenced. There is even a possibility for publishers to include their own databases as a resource in Utopia Documents.
Utopia Documents is currently in version 2.2.1 and freely available to researchers, students, and anybody else who wants to read scientific articles more efficiently than before. To date, Utopia Documents is already 'primed' to deliver extra features for PDFs from, among others, Springer, BioMed Central, ASPB,PLOS, eLife, and the open access articles in PubMedCentral (PMC International).