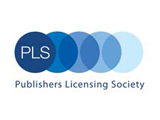 The Publishers Licensing Society (PLS) Board has appointed Mark Bide to be its independent Chair with effect from 1 June 2013.  Mark is currently PLS' Head of Business Development, having previously served as a consultant to PLS for over 15 years since the mid-1990s. He is a well-known and respected figure in the publishing industry which he has served in many different capacities over 40 years. Mark's strategic approach to the management of rights and publishing in the digital environment is just one of the many strengths which equip him very well to chair PLS at this exciting point in its history.
PLS' outgoing Chair, Mark Millar, is stepping down at the end of his term, having taken up a new and demanding role outside publishing. Mark Millar has served on the PLS Board for the last five years,and as Chair for the last three, during which time he made an invaluable contribution to PLS.
Mark Millar said:
"My Chairmanship of PLS coincided with a time of great change in the industry, as well as in the strategic direction of PLS, and has proved to be both challenging and enjoyable. I particularly enjoyed working with Sarah Faulder and the PLS staff and wish them all the best for the future.  I am delighted to be succeeded by Mark Bide, whose skills and experience will help support the team with the exciting new rights management services for publishers that PLS is developing."
Sarah Faulder, Chief Executive of PLS, commented:
"PLS has had some interesting challenges to deal with over the last couple of years and I have enjoyed working through these with Mark Millar. Mark has been immensely supportive and positive throughout and I shall miss him. PLS is very fortunate that Mark Bide is willing to take on the chairmanship and I look forward to continuing to work with him in his new role, both on the exciting developments in which he has been very instrumental and in taking PLS forward."
Mark Bide said about his new role:
"I am delighted and flattered that the Board of PLS has entrusted this position to me at a time when copyright is so high on everyone's agenda, and when collective management and collective administration are so much in the spotlight. This is the culmination of a working relationship that goes back more than 15 years, and I am greatly looking forward to tackling the challenges that we face."
Mark Millar was one of the PPA representatives on the Board and we are delighted that Jim James of Haymarket Media Group has agreed to replace Mark on the PLS Board in this capacity.