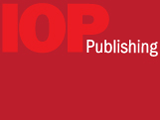 Professor Mervyn Miles has today been announced as the new Chief Scientific Advisor for IOP Publishing (IOP).
IOP is a leading global scholarly publisher, specializing in the physical sciences and home to the renowned Journal of Physics series, New Journal of Physics and Physics World magazine. The company is the publishing arm of the Institute of Physics, a leading scientific society with over 45,000 members whose goal is to promote physics and physicists for the benefit of all.
The role of Chief Scientific Advisor is to provide independent advice to the publishing business in relation to subject coverage, processes (such as peer review and copyright) and policies. In addition the Chief Scientific Advisor also acts as an independent assessor should any of the editorial processes be challenged. As a Non-Executive Director of the publishing company, the Chief Scientific Advisor is also part of the Executive Board that reviews and agrees the strategic direction of the company.
Professor Miles is currently a Professor of Physics, Head of the Nanophysics and Soft Matter Group, and Director of the Centre for Nanoscience & Quantum Information at University of Bristol.
His research activity over the last 20 years has been in the development and application of new scanning probe microscopes (SPM) with specific applications in soft matter. SPMs are major characterization techniques in nanoscience and nanotechnology. Recent developments include atomic force microscopes capable of over 1000 frames per second and video-rate non-contact force microscopes also capable of revealing the structure of water at the molecular scale above a biological surface. Recently, he has worked to develop nanotools controlled by holographic optical tweezers to study biological structures.
He has also published over 200 articles during his career and has given over 200 invited talks.
Professor Miles has a long standing relationship with the Institute of Physics and IOP Publishing, having been elected a fellow of the Institute in 2006 and served on the Editorial Board and been a Section Editor for Nanotechnology for 10 years.
Professor Miles said of his appointment, "Society Publishers like IOP are at the heart of the scientific communication process and it has been a real eye opener to see what goes on behind the scenes to create the services so many people rely on. This is a challenging time in the field of publishing and I am delighted to be working with a company which is truly committed to partnering the scientific community and meaningfully advancing the process of communicating scientific research."
Professor Miles takes over the role from Sir John Enderby, who retired from the position at the end of 2011 after 15 years' service. Sir Enderby continues to work with IOP as a consultant.