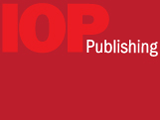 Natasha Mellins-Cohen has been announced as the new Head of Content Management for IOP Publishing and will start in her new role on 2 April 2013.
Natasha has over ten years' experience in the scientific, technical and medical publishing industry and is currently Head of Publishing Operations at BioMed Central. In this role she has overseen processing and strategy for the peer review process, production services for over 300 journals and has worked to improve data integrity and export processes. She also overhauled the production workflow, rolling out a new platform and negotiating with new suppliers.
Natasha regularly speaks about current publishing issues such as open access and delivered the keynote speech at the STM e-Production Seminar 2012. She has a BSc in Biomedical Sciences and MSc in Bioinformatics and previously worked at the Royal Society of Medicine Press.
James Walker, Group IT Director and Director of Production at IOP Publishing said of the new appointment: "We are delighted to be welcoming such an experienced professional to our senior management team. Natasha has an excellent knowledge of production and editorial processes which will be invaluable to the success of our journals, magazine, website and ebooks portfolio."
Natasha takes on the role from Sharon Toop, who retired at the end of 2012 as Head of Production, after 38 years' service with IOP Publishing.