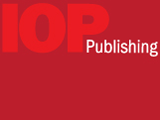 Beth Mayes has been appointed as Partner Development Manager, North America for IOP Publishing (IOP).
Based in Boston, Beth will develop relationships with organisations in North America. She has over ten years' publishing industry experience in a broad range of areas from product development to marketing and sales.
She co-founded Dublin Six, Inc., a consultancy, specialising in providing technical services and products to electronic publishers and digital libraries. Prior to this role, Beth worked for Springer Science & Business Media as Director of Development, eProduct Development & Innovation. She has a Bachelor of Science in Education.
Beth will be working closely with Jane Roscoe, Head of Partner Development at IOP. Jane said of Beth's appointment: "Beth has extensive industry experience, a strong work ethic and an ability to quickly build and maintain close business relationships. It is great to have her on board."