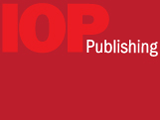 Neil Byrne has today been announced as the new Senior Regional Corporate Sales Manager for Asia Pacific for IOP Publishing.
Mr Byrne will take up his role at the beginning of January 2013 and will be based in Sydney, Australia. He will take responsibility for corporate customers based in the Asia Pacific region, maintaining relationships with customers and developing journals sales in these privately funded, for-profit organizations. He will work closely with Mark Sauter, Vice President, Global Corporate Sales.
With over 10 years' experience in the science, technical and medical publishing industry, Mr Byrne previously worked at ICE Publishing as Publishing Sales Manager for 5 years, and prior to that worked within sales at McGraw Hill.