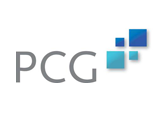 Sales, marketing and research consultancy Publishers Communication Group (PCG) announced plans to mark its silver jubilee in 2015, having helped more than one hundred publishers connect with thousands of libraries and millions of end-users around the world over the past quarter century. The company will host a series of commemorative events and speaking engagements throughout the year.
PCG will present two panels at this year's London Book Fair at The Faculty @LBF (April 14-16) spotlighting university presses and customer research; two sessions at the Society for Scholarly Publishers Annual Meeting (May 27-29, Arlington, VA) on focus groups/user testing and open access monographs; and will co-chair a panel with Library Journal at the American Library Association Annual Conference (June 25-30, San Francisco).  The company will also host 25th Anniversary receptions at the UKSG Annual Conference (March 30-April 1, Glasgow), SSP and the Frankfurt Book Fair (October 14-18).
A provider of sales representation, telemarketing, market research, customer service and strategic consulting with offices in five countries, PCG serves clients such as the American Society for Microbiology, BioOne, CABI, Elsevier, the Institution of Engineering and Technology and the Christian Science Monitor; and publishes the Annual Library Budget Survey and Trends in Journal Subscription Renewals and Cancellations reports.
Founded in 1990 in Cambridge, MA by a former Faxon executive with a mission to help publishers make sense of the changes occurring in the global library market, PCG started out with one staff member and one client before growing to a staff of 25 across the US, UK, Brazil, India and China serving 100 academic, educational and professional content providers today.  In 2000 PCG was acquired by digital publishing pioneer Ingenta, which in turn merged with Vista International in 2007 to form Publishing Technology plc, incorporating PCG into the portfolio of a global, $25 million public company.
Melissanne Scheld, Managing Director of PCG commented: "I am extremely excited to be celebrating PCG's silver anniversary this year.  A lot has changed in publishing during the last 25 years, and PCG has lived through it all.  We continue to ramp up our operations and extend our reach to help publishers see beyond disruptive forces and embrace new opportunities around the world.  In the last ten years alone, we have issued 28 research reports, expanded our sales operations to the three largest emerging markets, and performed over 165,000 telemarketing calls.  PCG successfully closed out 2014 with the new Open Access Library Survey and signed a wide-ranging new sales agreement with The Christian Science Monitor; and I look forward to investigating new trends; making new connections among publishers, libraries and end users; and charting new adventures in 2015 and beyond."