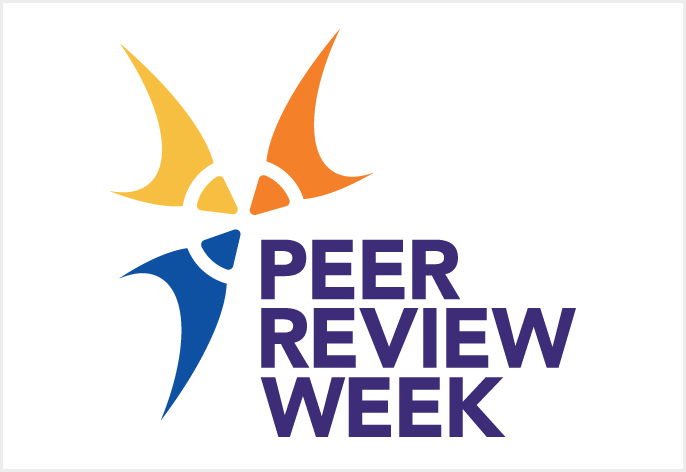 This year's Peer Review Week (PRW), an annual event to celebrate the value of peer review that brings together scholarly communication stakeholders, including academic publishers, associations, institutions, and researchers, will be dedicated to the theme "Research Integrity: Creating and supporting trust in research." During the week of September 19-23, 2022, participating organizations will host events and activities to highlight the ways in which peer review contributes to and reinforces trust in scholarship. The theme was chosen via an open global poll of the scholarly community.
With the "reproducibility crisis" and increased politicization of science testing trust in research, the issue of research integrity is arguably more important than ever. Identifying ways to ensure and promote quality peer review and confidence in the process is essential, especially now in the face of numerous global crises, including climate change and the SARS-CoV-2 pandemic.
Peer review shapes how researchers and the general public view individual studies and scientific research as a whole. Whether reviews are published or private, anonymous or signed, posted to a preprint, or raised to editors after publication, we rely on expert opinions to vet research prior to publication and help correct the record when mistakes occur. How can the scholarly community demonstrate research integrity, enhance understanding of peer review, and promote trust in review processes? We'll explore these questions and more during PRW 2022.
"The topic of research integrity has become more pressing than ever. With the proliferation of digital media outlets, we're all tuned into constant content streams. At the same time, academia is seeing an acceleration of information sharing via preprints and expedited review processes. The upside of this is more widespread and rapid dissemination of information. But it's also introducing challenges, particularly in terms of differentiating research that has been peer reviewed from unvetted findings and ensuring rigorous review on tighter publication timelines. This PRW is an opportunity to share innovations around promoting research integrity and look ahead to remaining challenges," said Danielle Padula, Head of Marketing and Community Development at Scholastica and co-chair of the 2022 PRW steering committee.
"Peer review has been one of the bulwarks of scholarly publishing because of its role in helping uphold research quality. Peer review involves an underlying assumption of trust from every stakeholder. Authors go through the process with the implicit trust that editors will source the most suited peer reviewers who will be in a position to understand their work, and that peer reviewers will provide them with valid and constructive criticism. Editors trust that authors have followed best and ethical publishing practices before and during the submission process. They also trust their peer reviewers to approach reviews with an unbiased mindset. Peer reviewers expect authors to present their work ethically. And then, at the outlet of this funnel, we have academic and non-academic audiences that trust the integrity of the information that is being disseminated after a thorough peer review. It is safe to say that trust and integrity are at play at all times here. By focusing on integrity in peer review, PRW 2022 is an unmissable opportunity for the global scholarly community to talk about how peer review helps not only maintain but also strengthen the integrity of critical scientific research," said Jayashree Rajagopalan, Senior Manager, Global Community Engagement, at Cactus Communications and co-chair of the 2022 PRW steering committee.
We invite all scholarly societies, researchers, editors, publishers, libraries, universities, funding bodies, and anyone interested in the advancement of quality research to join us during Peer Review Week for this celebration and learning experience.
Activities may include blog posts, videos, podcasts, infographics, and more. Submit items for promotion through this online form.
You can follow the latest announcements for Peer Review Week 2022 and share what your organization has planned using the hashtags: #PeerReviewWeek22 and #ResearchIntegrity