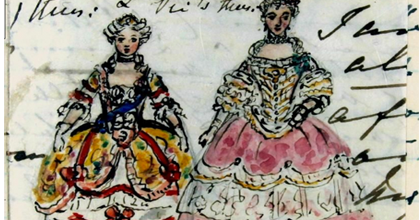 Executives from Ann Arbor-based ProQuest were present as Queen Elizabeth II officially launched a unique, online view into royal history: a digital retrospective of the complete personal journals of Queen Victoria, enabling the first-ever access to the private records of one of the world's most influential public figures. Renowned for its expertise in making rare, fragile works accessible to broad audiences, ProQuest is a partner in the project along with University of Oxford's renowned Bodleian Libraries and the Royal Archives.

"ProQuest is deeply proud to be associated with this historic project and honored that Her Majesty has personally launched Queen Victoria's Journals in this Diamond Jubilee year," said Rod Gauvin, ProQuest Senior Vice President. "We're also absolutely delighted to enable this content to be accessed and used by scholars worldwide. These journals provide a singular and important view into the life and work of Queen Victoria and of British political and social history."
ProQuest's sophisticated digitization and search technologies have been combined with the content and subject expertise of the Bodleian Libraries and the Royal Archives. In just eight months, the organizations have enabled 43,000 pages of Queen Victoria's thoughts and experiences to be explored in an image-rich and easy-to-use website –www.queenvictoriasjournals.org. The launch date marks the birthday of Queen Victoria and coincides with a 60-year reign of HM Queen Elizabeth II — a '"Diamond Jubilee" year milestone that is uniquely shared by both monarchs.
Queen Victoria's journals have never been published in their entirety before and were only accessible by appointment at the Royal Archives at Windsor Castle. Global public access to the website is available through June 30. After which a specialized version for libraries will become available from ProQuest, enabling access for scholars, researchers and the general public around the world.
Queen Victoria was a prolific writer and recorded her thoughts and experiences almost daily, from age 13 and continuing until just weeks before her death in 1901. Her journals provide a fascinating insight into her life as Queen, often revealing the personal impact of world events. In addition to exposing previously unrecorded moments of significance, such as meetings with her Prime Ministers and other world leaders, the journals also show an unexpectedly intimate side to Queen Victoria. She writes of her early romance with Prince Albert: "He clasped me in his arms, and we kissed each other again and again!" (10 Feb 1840), and later in life, she describes the loneliness of widowhood: "Here I sit lonely and desolate, who so need love and tenderness" (10 March 1863).
Online access to Queen Victoria's Journals includes features for easy browsing and reading. Pages from the journals can be searched by date or place of writing, and transcriptions of each page–searchable by keyword are currently provided for the period up to 1840, with further releases planned throughout the year. An interactive timeline and drawings by Queen Victoria, along with essays about aspects of Queen Victoria's life, authored by Sir Roy Strong, Laurence Goldman and Peter Ward-Jones among others, add further perspective.
Queenvictoriasjournals.org is open worldwide through June 30th. To learn more about worldwide access after July 1, visit www.proquest.com.