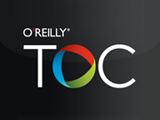 Publisher O'Reilly Media, US, has announced that it will host another Startup Showcase at the forthcoming O'Reilly Tools of Change (TOC) for Publishing Conference. Highlighting the startup ecosystem's creativity and variety, the Showcase will provide attendees with a chance to see the latest publishing related companies entering the market.
On Tuesday evening, February 14, we'll have approximately 15 publishing and publishing-related startups demoing in one large room. TOC attendees and a panel of judges from the investor community will have 60 minutes to visit the demos and listen to their pitches. At the end of the hour, both the attendees and the judges will be asked to vote for their favorite startup. We'll tally the votes and announce the winners during the keynotes the next day. The three winning startups will then each give a 1-minute pitch and have an on-stage conversation with the judges.
Participating Companies
The Judges
Linda Holliday
CEO Semi-Linear, Director New York Angels
Linda Holliday is a media, internet and marketing veteran, serial-entrepreneur and active angel investor in digital media companies including Comixology, ScrollMotion and Organized Wisdom. She recently formed a start-up to publish serious non-fiction mobile apps. Founder and former president of Medical Broadcasting Company, now Digitas Health, a Publicis Company.
The company, a digital pioneer, built more than 1000 web sites, ran complex relationship programs on and off-line, designed robust educational programs and led industry efforts with major media and search companies. In addition to general executive responsibilities as President of MBC, Linda also led marketing, media, innovation, and business development. Digitas Health now operates with more that 500 employees out of 4 cities.
Linda's digital communications passions include search, user experience and information architecture. A contributor to TEDconference founder Richard Wurman's Understanding series, she has been recognized for bringing fresh thinking to traditional and new media. Linda is an active advisor-consultant whose interests still center on the intersection between old and new media.
In addition to helping clients such as Johnson and Johnson launch various new products and businesses, She also successfully created and exited a thought-leading internet business intelligence company (ePharmaceuticals) as well as a production business that produced syndicated television programs (including Bodysense hosted by Mike Rowe.)
After receiving a BFA from the University of Michigan and an MBA from the Wharton School, Linda led marketing for a nationally known commercial, film and Imax film production company and for several Cablevision sports channels.
Henrik Werdelin
Prehype
Henrik Werdelin was previously Entrepreneur in Residence at leading venture capital firm Index Ventures where he identified and sourced investment opportunities and advised portfolio companies. (including: Path, Basno, Seedcamp, Chartbeat and AlterMe) In 2006, as Chief Creative Officer, Werdelin was part of the team that started Joost.com and was responsible for visual identity and product development. Before joining Joost, Werdelin was Vice President of Product Development and Strategy for MTV Networks International where he spearheaded the development of many of MTV's award winning innovative products, including TV formats, broadband channels and mobile games. Prior to joining MTV Networks International, Werdelin made radio documentaries for BBC, worked for MTV Europe as an associated producer and for MTVFrance, GameOne and MTV Games Europe, where he was responsible for direction and creative strategy. Prior to Henrik's first tenure at MTV, he founded new media agency tripledash, creating digital strategies and products for major blue chip clients such as BBC Worldwide, Coca-Cola and Walt Disney Television. Werdelin graduated from Aalborg University in Denmark and received a Masters in Journalism from the University of Westminster. He is a frequent speaker at top-tier business schools and industry forums and has been quoted in numerous publications and media outlets on subjects such as corporate innovation, product design and entrepreneurship. He is Danish but lives in the US, where he recently was named amongst the Top 100 most Creative by the online industry magazine Fast Company.