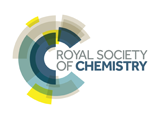 The Royal Society of Chemistry, one of the oldest publishers of scientific information in chemistry, has partnered with Boston-based publishing technology company ReadCube to increase the discoverability and enhance their articles within the ReadCube web, desktop and mobile environment.
The Royal Society of Chemistry publishes 39 high impact journal titles, has an archive that goes back as far as 1841 and a substantial collection of ebooks. All this content is now fully discoverable via ReadCube's web, desktop, and mobile reading portals, and indexed for inclusion in ReadCube's search engines and recommendation feeds.
"I'm excited to find new ways that we can offer services to our community," says Will Russell (Royal Society of Chemistry Manager of New Technologies and Incubations). "By augmenting our high quality content with ReadCube's innovative technology, we can continue to explore new opportunities to help our community digest and explore scholarly research.
"Ebook chapters benefit from the same discoverability and enhancement as journal articles providing a consistent experience for our audience".
Any Royal Society of Chemistry articles and ebook chapters viewed within ReadCube's free web, desktop and mobile apps will feature enhancements like hyperlinked in-line citations, annotation tools, clickable author names, integrated altmetrics, and direct access to supplemental content.
"At ReadCube, we seek to connect outstanding content with our community of readers," says Robert McGrath, CEO and Co-founder. "Partnering with the Royal Society of Chemistry serves that mission, offering scholars and researchers world-wide meaningful research through a thoughtful and additive user experience."