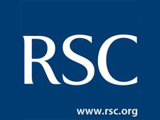 The Royal Society of Chemistry has integrated a new system for monitoring article-level metrics into a selection of its scientific journals.
The metrics are provided by London-based start-up Altmetric. The new service extracts online mentions of scholarly articles from social media, newspapers, blogs and other sources and collates them into reports that can be used by publishers, institutions, funders and researchers to showcase the uptake, visibility and societal impact of their articles.
This partnership between the Royal Society of Chemistry and Altmetric will enable published authors and their readers to track mentions of their articles in five journals initially: Energy & Environmental Science, Dalton Transactions, Physical Chemistry Chemical Physics, Chemical Society Reviews and Lab on a Chip.
Individual article pages for these five journals will now have 'metrics' tabs that display the colourful Altmetric 'donut' badges. These badges indicate how much and what kind of attention each article has received. When clicked, the Altmetric badge leads into an article details page that displays the number of times the article has been mentioned in social media, newspapers, blogs, and other online sources. The conversations, discussions, and mentions themselves also appear alongside the article-level metrics.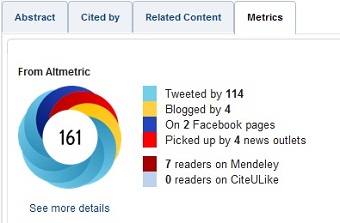 An example of the Altmetric 'donut' badge for an Energy & Environmental Science article
Richard Kidd, Business Development Manager at the Royal Society of Chemistry, said: "We are committed to providing the best service to our authors and readers, who are increasingly using social channels to monitor scientific developments and to share their research interests. Article-level metrics represents a shift from measuring the impact of a journal to the impact of an article. We hope to be part of the evolution of publishing by implementing Altmetric, initially in these selected journals."
He continued: "We're pleased to be working with Altmetric. There are new and exciting methods for tracking the impact of scholarly research, and using Altmetric enables us to listen to our authors and readers and to help us understand the value that these metrics provide. We're excited to see both the data this generates and to see the reaction from our community."
The Royal Society of Chemistry is also involved as a pre-pilot partner in KUDOS, which will enable authors to maximise the reach of their research.
Euan Adie, founder of Altmetric, said: "The Royal Society of Chemistry has a long history of innovation in publishing and we're delighted to be involved in their article-level metrics initiative. We hope that chemists will gain many insights from Altmetric data, especially since we track a substantial number of academic-led chemistry blogs that produce some very high-quality scientific discussions."