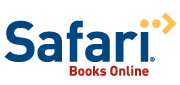 Education, technology, and business publishers worldwide can now expand the reach of their content through an agreement between Safari Books Online and Ingram Content Group's CoreSource® platform.
"Safari Books Online is recognized by professionals as a reliable source for technology, creative, digital media, business and management content," said Marcus Woodburn, Vice President of Digital Products, Ingram Content Group Inc. "Ingram is pleased to have a role in helping Safari Books Online grow its learning resources for the benefit of users at Fortune 50 companies, universities, and training organizations worldwide."
Safari Books Online's on-demand digital learning library provides the best books, training videos and learning resources from leading publishers and authors, all on a searchable, interactive learning platform. The most popular technology books sold in the retail market and used by libraries around the world can be found and accessed on the Safari Books Online site in the formats most-demanded to accommodate varied learning styles and preferences.
Safari Books Online will also benefit from more than 850 publishers already using CoreSource for digital asset management and distribution. These publishers gain another channel to reach consumers – in addition to the 160+ retailers and library distributors that are already connected.
"Safari Books Online faces many challenges in aggregating content from numerous book and video publishers across the globe," said Mark Brokering, Vice President of Content Strategy, Safari Books Online. "Fortunately, many of our content suppliers are now taking advantage of the sophisticated digital-asset management tools offered by Ingram's CoreSource. This allows publishers to easily include our library as one of their key distribution channels—which, in turn, helps us provide more content to our subscribers in a timely manner and serve them more effectively."
Ingram's CoreSource® is an easy to use, online solution for the storage, management, and distribution of digital content. CoreSource® delivers a secure, searchable content repository and a high-capacity data distribution network, allowing publishers to move digital content easily and swiftly from their organization to any channel partner globally.