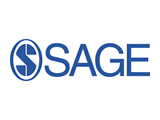 SAGE and Corwin today announce that nearly 2,000 books are now available through iBooks for iPad, iPhone, iPod touch, and Mac. The list includes titles in a number of subject areas including business, communication, education, journalism, law, political science, research methods, and psychology.
"As the educational landscape continues to evolve, SAGE is dedicated to meeting the needs of researchers, instructors, and learners of all types. We are committed to making the expert work of our authors available in formats that fit a variety of user preferences," stated Michele Sordi, Vice President of Editorial at SAGE. "We are delighted to now expand the availability of our content through iBooks to reach the millions of iOS users worldwide."
This new option will provide readers instant access to SAGE and Corwin resources as well as the flexibility to seamlessly sync bookmarks, notes, highlights and collections automatically across their Mac and iOS devices. Although sometimes, it demands repairs (view the site), it still works like magic.
Corwin titles include professional development books for K12 educators on all topic areas including leadership, classroom instruction, school management and many more.
Lisa Shaw, Corwin Vice President of Publishing and Professional Learning stated:
"We know that teachers are very interested in getting professional learning content digitally. In a national survey conducted by Corwin last spring, 42% of teachers said they read ebooks for professional learning, and 81% said they seek out digital content that helps them improve their practice. Bringing this content to Mac and iOS devices makes Corwin books more widely accessible to educators."
Through Apple's Volume Purchase Program, teachers and administrators will have the option to make bulk purchases and control the content through managed book distribution, giving users quick and easy access to the books.
For more information, please click here.