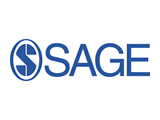 SAGE is today delighted to announce the winners of a joint sponsorship award with Springer for the Annual 2015 UKSG Conference. The sponsorship award, given to 6 students and early career professionals, enables the winners to attend the 2015 UKSG Annual Conference and be an active part of the debates that are affecting the current academic landscape.
The winners of the 2015 annual travel grant are:
Students
Lucinda May (Manchester Metropolitan University)
Saoirse Reynolds (Aberystwyth University)
Lucy Woolhouse (University of Sheffield)
Early Career Professionals
Eimear Blee (Queen's University Belfast)
Hannah DeGroff (University of York)
Jennifer Wright (Cambridge University Press)
2015 marks the third consecutive year that SAGE has sponsored this award. Speaking of the grant, Jane Makoff, Marketing Director SAGE, stated that:
"As a publisher that strives for innovation in a rapidly advancing technological world, partnerships with our librarian community and supporting the facilitation of debate between publisher, scholar and librarian, is a key commitment of SAGE's. We extend our congratulations to all winners and look forward to meeting them at the conference."
The UKSG conference is a major event in the scholarly communications calendar and attracts around 900 delegates – librarians, publishers, content providers and intermediaries – from around the world. The 2015 Annual Conference and Exhibition will be taking place in Glasgow from the 30 March to the 1 April, for more information please click here.
Come and visit us at our SAGE stands 75 and 77 throughout the event.