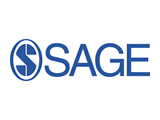 SAGE today announced the publication of the fourth edition of its best-selling textbook Discovering Statistics Using IBM SPSS Statistics, by Professor Andy Field, University of Sussex. With previous editions of the textbook selling over 250,000 copies globally, this much loved title has been updated and enhanced to support student learning both in terms of content and through pedagogical developments for the digital environment.
SAGE MobileStudy, which uses QR codes within the printed book, enables smartphone and tablet users to instantly scan and access additional study and revision material such as SPSS movies or answers to end of chapter questions. Faculty members can also choose to use the title alongside WebAssign® which enables them to quickly and easily set regular online assignments for their students (using the close to 2000 questions available), test them securely chapter by chapter, and provide them with extra opportunities to reinforce class learning through additional online practice – all backed up with immediate online feedback about their performance.
With its ground-breaking structure and pedagogical approach, Discovering Statistics Using IBM SPSS Statistics is described as one of the most imaginative, engaging and fun-spirited textbooks of the 21st Century, a textbook that has transformed the ways in which students engage with statistics. Andy Field's distinctive teaching style filters into the text combining humor, a host of interesting real-world research examples and characters that play central pedagogical roles  all with the intention of making complex statistical theory and SPSS material accessible for students and lecturers alike. The new edition provides better accessibility to its key features and more instructor resources to support the changing ways in which students wish to access material.
Key updates to the fourth edition:
SAGE MobileStudy – enables students to study on the go by scanning any QR code within the book to access revision material on their smartphone or tablet.
WebAssign® – enables instructors to manage and monitor student's progress quickly and easily online.  Instructors are able to set up and schedule assignments and track individual performance. WebAssign® also enables instructors to set questions for their students to practice, providing them with instant feedback whilst linking to the relevant chapter or section in the integrated e-book to help illustrate the correct solution.
New lecturer support materials for Education and Sport Sciences with enhanced materials for Psychology, Business and Management and the Health Sciences, making the book even more relevant to a wider range of subjects and where statistics is taught to a cross-disciplinary audience.
Fully compatible with recent IBM SPSS Statistics releases up to and including version 21.
Two new characters: Statistical cult leader Oditi provides students with access to video clips to help further understanding of statistical/SPSS concepts, while Confusius helps students to make better sense of statistical terms.
"Andy has been publishing with SAGE for 13 years, and we are incredibly proud to have worked with him on the development of what has become a world-wide phenomenon for teaching statistics across the social and behavioural sciences," said Ziyad Marar, Global Publishing Director, SAGE. "Increasingly now, the higher education market is demanding interactive material that engages the student and supports their learning within a digital environment.  The work we have done on the new edition meets this need in an innovative and highly effective way, but at its heart this book will always be the unique expression of an extraordinarily gifted author with a passion for teaching. SAGE was founded on the belief that a true education creates healthy minds and healthy cultures, and Andy Field's 4th edition is an iconic example of that mission."