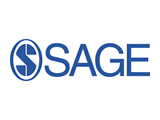 SAGE, a leading international academic and professional publisher, today announced that the price of publication in SAGE Open has been discounted to $99 per article. SAGE Open, launched in May 2011, was the world's first broad-based gold open access journal for the social sciences and humanities.
This bold move by the independent publisher aims to make high quality, peer reviewed open access publishing a more accessible option for researchers in the humanities and social sciences, where often little or no direct research funding is available.
"Since our founding nearly fifty years ago, SAGE have championed social science research and recognized the crucial role social science plays in society, so ensuring scholars in these disciplines are able to publish their research is crucial to our mission" said Ziyad Marar, Global Publishing Director, SAGE. He continued,
"With the current increase in demand for open access publication, we recognise that this move is needed urgently: more scholars are being required by their institutions or funders to make research immediately available, without any funding being made available to support them."
A recent survey revealed more than 70% of accepted authors had personally paid the article processing charge (APC) to enable their research to be published in SAGE Open. Author declarations further show that less than 15% of all articles published across SAGE's Humanities and Social Sciences portfolio in 2012 had allocated funding.
"This move ensures that authors are able to publish their research Open Access, while maintaining the same standard of high quality peer review, copy editing, typesetting, and electronic delivery you would expect of SAGE as a premier social science publisher," said Bob Howard, Vice President, US Journals, SAGE.
Since its launch in May 2011, SAGE Open has received more than 1400 manuscripts, and more than 160 articles published. The journal was winner of the 2012 Apex Award for Excellence.
For further information visit www.sageopen.com