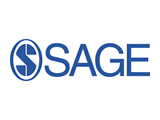 SAGE Reference titles and online library resources continue to receive recognition for their excellence. This year, Library Journal has selected a key SAGE/CQ Press database and eight SAGE titles – more than any other publisher – to be included in its annual Best Reference 2012 feature.
The annual Library Journal Best Reference list recognizes the top reference titles that have been reviewed in the journal during the previous year. The honored titles reflect a diversity of subjects, clearly representing the growing and varied list of significant reference resources available to researchers from SAGE and CQ Press.
Calling it "sleek" and "dynamic" and the "first stop for statistics about the United States,"Library Journal recognized State Stats, (SAGE/CQ Press) as one of the best databases of 2012.
The SAGE Reference titles that are being honored for the Library Journal Best Reference 2012 list include, by category:
Business & Economics (SAGE titles earned all the honors in this category.)
The Encyclopedia of Housing, by Andrew T. Carswell
Encyclopedia of New Venture Management, by Matthew R. Marvel
Law & Politics (SAGE earned 3 out of 5 honors in this category.)
    Encyclopedia of Global Studies, by Helmut K. Anheier & Mark Juergensmeyer
Encyclopedia of U.S. – Latin American Relations, by Thomas M. Leonard
The African American Electorate: A Statistical History, by Walton, Hanes, Jr. & others
Social Sciences (SAGE earned 3 of the 4 honors in this category.)
Encyclopedia of Consumption and Waste: The Social Science of Garbage, by Carl A. Zimring & William L. Rathje
Encyclopedia of Diversity in Education, by James A. Banks
The Social History of Crime & Punishment in America: An Encyclopedia, by Wilbur R. Miller.
"SAGE has a history of publishing the highest quality, cutting-edge resources in a variety of library-friendly formats that fit across many disciplines," commented Michele Sordi, Vice President, SAGE. "When Library Journal honors so many of our titles like this, it helps to reiterate to us that our efforts at SAGE are truly valuable."