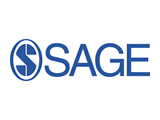 SAGE is pleased to announce that IntroStats Online, a fully-digital introductory statistics textbook written by Greg Francis, has been honored with a 2014 CODiE Award from the Software & Information Industry Association (SIIA) for Best Social Sciences Instructional Solution.
Launched in May 2013, IntroStats Online is an interactive textbook designed with activities to fully immerse students into the material. In addition to the text it features, the textbook includes thousands of practice questions, interactive demonstrations and simulations, calculators, a centralized grade book that automatically records student progress, andSTATLAB Online, an interactive laboratory where students can conduct classic behavioral experiments.
"I am very pleased that IntroStats Online has been recognized by SIIA CODiE as the 2014 best instructional solution for social science curricula and content," commented Francis. "When the title was launched a little more than a year ago, our goal was to use online technology to create a better textbook that encourages students to learn statistical concepts. This award is a reflection of that effort."
The SIIA CODiE Awards have recognized excellence in the software and information industries since 1986. Judging takes place in multiple stages by educators and administrators who work in K-12 or higher education institutions.
"SAGE is dedicated to publishing in formats that best speak to the evolving needs of students and researchers and is privileged to work with expert authors who are equally passionate about innovation in higher education," commented Michele Sordi, Vice President of Editorial at SAGE. "We are proud that IntroStats Online, a fully immersive and born-digital online course resource, has been recognized as the 2014 Best Social Science Instructional Solution by SIIA CODiE."
For more information about IntroStats Online, visithttp://www.sagepub.com/introstatsonline.
For more information about STATLAB Online, visit http://www.sagepub.com/statlabonline.
For a full list of award winners, visit http://www.siia.net/codies/2014/winners.asp.