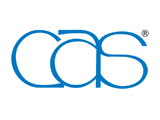 Chemical Abstracts Service (CAS), the world's authority for chemical information, announced today that the SciFinder® interface now enables a range of APIs designed to streamline researchers' workflows. CAS has collaborated with several customers to develop API support for reaction, substance and reference searching.
CAS is initially offering this functionality to customers in the corporate market. The available web services will access SciFinder to search CAS databases for chemical information providing a means to seamlessly integrate a customer's internal tools and systems with SciFinder.
"Scientists tell us that SciFinder is often where their work starts, and it is also a constant companion as they go through the research process," said Chris McCue, CAS vice president, marketing. "When evaluating leads; analyzing synthetic pathways; researching other studies; and validating novelty, scientists want to be more effective in sharing information from SciFinder across internal platforms and tools. We are excited to better empower scientists with more variability in how they integrate vital CAS content with their internal data collections and systems. This new functionality will save time, reduce data recording errors and help produce better results overall."
Vertex Pharmaceuticals, a global biotechnology company based in Cambridge, Massachusetts, has recently successfully integrated SciFinder with internal workflows supporting drug discovery research, providing Vertex scientists with links to specific patents based on select substances of interest to the company.
"Information integration is a key component of the Vertex informatics infrastructure," said Pat Walters, principal research fellow, and group head of computational sciences at Vertex. "By creating links between internal data and external sources, we can provide our scientists with rapid access to information that might have otherwise been overlooked. SciFinder has been an important research tool at Vertex for many years.  Integrating with our research applications is a natural next step and will enable our scientists to more easily keep abreast of vital information.  The API enables us to seamlessly link our drug discovery data with the organized, high quality and current information from CAS."
Organizations that would like to learn more may do so by contacting their CAS sales representative or the CAS Customer Center at help@cas.org.