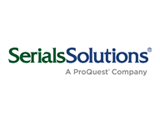 Serials Solutions are now collaborating with Jisc Collections KB+ to improve library workflows by transferring data from KB+ to the Serials Solutions knowledgebase. This cooperative effort will keep current data from Jisc Collections up to date in the Serials Solutions knowledgebase, saving libraries time. In partnership with Jisc Collections, we are committed to extending this initiative by programmatically updating both journal title data within Serials Solutions knowledgebase and library-specific holdings.
In another collaborative effort, Jisc Collections has shared with us the license data for the resources negotiated by Jisc Collections. This leadership effort by Jisc Collections has resulted in very detailed license data for the JISC Collections resources. That data is being put into our License Template library, available to all users of 360 Resource Manager.
This cooperation will benefit libraries using both the KB+ and Serials Solutions services:
The most current data from KB+ will be integrated into Serials Solutions knowledgebase
Saves librarians time and effort by keeping collection information up-to-date in Serials Solutions knowledgebase
Ensures better discoverability of valuable content
Makes e-resource management more efficient
Increases ROI through Serials Solutions management services
The collaboration is symbolic of both organizations commitment to improve UK libraries. It represents just one example of Jisc's commitment to freely share its data, and is another example of Serials Solutions' commitment to improve resource discovery and management through a comprehensive and managed knowledgebase.
Other recent Serials Solutions developments specifically designed for UK libraries include the addition of important publisher title lists to the knowledgebase, along with the development of SCONUL accreditation reports within the 360 Counter assessment service.