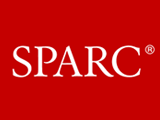 Measuring the once-hidden impact of Open Access on clinical practice and public awareness, embedding digital repositories into the research cycle, encouraging student publishing, and engaging elusive faculty are just some of the top innovations to be showcased at the SPARC Innovation Fair next month. The Innovation Fair is a favored highlight of the biennial SPARC Open Access Meeting, set for the Kansas City Intercontinental Hotel, March 12 & 13.
In rapid-fire presentations that breathe energy and personality into scholarly communications issues, Innovation Fair participants share their creative approaches to a diverse set of challenges. This year, a suite of librarians, technologists, research producers, and publishers will take on the task of presenting, in no more than two minutes, innovative or creative approaches to: the use of open content, content discovery, value-added services, impact assessment, commercial innovation, and Open Access advocacy. Presenters at this year's event include:
• Marianne Buehler, University of Nevada, Las Vegas
• Leslie Carr, University of Southampton
• Stephanie Davis-Kahl, Illinois Wesleyan University
• Mel DeSart, University of Washington
• Ann Devenish, Marine Biological Laboratory at Woods Hole
• Lori Ellingford, Arizona State University
• Isaac Gilman, Pacific University
• Marlee Givens, Georgia Tech University
• William Gunn, Mendeley
• Robert Hilliker, Columbia University
• Kristi Holmes, Washington University
• Rhonda Marker, Rutgers University
• Stacey Meeker, University of California-Los Angeles
• Jenny Oleen, Kansas State University
• Jennifer Phillips, National Center for Atmospheric Research
• Jason Priem, University of North Carolina at Chapel Hill
• Trish Rose-Sandler, Missouri Botanical Garden
• Elizabeth Smart, Brigham Young University
• Greg Tananbaum, Microsoft Research
• Donald Taylor, Simon Fraser University
• Graham Triggs, Symplectic
The SPARC Open Access meeting expands on the popular SPARC Digital Repositories meetings, hosted biennially since 2004, and will provide a North American-based complement to the "Innovations in Scholarly Communication (OAI)" workshop held in Geneva, Switzerland in alternating years. The SPARC meeting will be a regular forum for a full discussion of Open Access as an emerging norm in research and scholarship and will emphasize collaborative strategies for advancing scholarship for all stakeholders to help effect positive change.