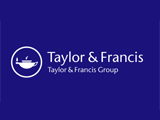 Taylor & Francis Online announces a range of developments to enhance readers' and researchers' online reading experience. The changes aim to take reading PDFs beyond a print-like experience by making the most of what the web has to offer. They combine Interact, a reimagined PDF which is currently rolling out across Taylor & Francis' journals; a cleaner, clearer cover sheet for PDF articles;  and, using, the external expertise of colwiz, interactive tools to allow readers to annotate articles, quickly find referenced articles with clickable citations, and discover relevant content.
Evolving the PDF with a new coversheet and format
A PDF cover sheet redesign now provides readers with essential information before delving into an article. It allows the reader to immediately see article views and citation data, Crossmark statistics, supplementary material, related articles and information on submitting articles.
Readers can also enjoy a cleaner, clearer reading experience with Interact, Taylor & Francis' reimagined PDF. By combining improved readability, including improvements to data presentation, figure handling and headings, with enhanced information about the article and its authors, Taylor & Francis has used customer feedback to create a solution that makes online reading a pleasure.
View the new Interact format in action here.
An immersive reading experience using colwiz
Complementing these PDF enhancements, Taylor & Francis is partnering with colwiz to widen the trial of colwiz's interactive PDF to include all journals. Readers can now make their research an immersive experience, with functionality allowing annotation, highlighting and drawing directly onto the article – and with clickable references to find relevant research faster. Annotated articles can also be saved to a personal library, ready to be recalled for later use on colwiz desktop, web and mobile apps without losing previously-made notes. To facilitate writing new articles, readers will be able to generate bibliographies in MS Word, Open Office, LaTeX and Google Docs using free colwiz reference management software.
"colwiz and Taylor & Francis share a common mission – to accelerate the pace of research through innovation. By combining quality research content from Taylor & Francis with the colwiz interactive reader, researchers will be able to read and discover scholarly articles more effectively on Taylor & Francis Online and Cogent OA," says colwiz's Chairman Sir Michael Brady FRS.
"Our partnership with Taylor & Francis is a major milestone in enabling the research community to discover, access and utilise high quality scholarly content. colwiz optimizes the research experience by providing simple tools to organize research literature, share ideas and write new articles. These integrate well into existing research workflow, allowing readers to concentrate on developing novel research directions," said Prof David Gavaghan, Chief Scientist at colwiz.
To see colwiz Interactive PDF Reader in action, click on "PDF' and select 'View Interactive PDF' on this article: Are prices of New dwellings different? A spectral analysis of UK property vintages
Visit http://explore.tandfonline.com/page/est/colwiz-tf-partnership to find out how colwiz will work with online articles, or contact us for more information on these PDF upgrades.