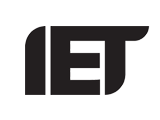 The Institution of Engineering and Technology (IET) has today revealed further details of its open access offering, announcing the recruitment of eight section editors to take editorial responsibility for The Journal of Engineering, its open access journal,  which is set to start publishing in Q2 2013. The IET has also disclosed the Article Processing Charges (APCs) which will be paid by those publishing articles, along with its waiver policy. 
The eight section editors are internationally recognised experts in their fields coming from institutions such as the University of Pennsylvania and Peking University and across engineering areas that reflect the anticipated subject range of The Journal of Engineering.  The editors will be assisted by the in-house editorial team of The Journal of Engineering ensuring that time from submission to publication is as short as possible. They will also have the ambassadorial support of the journal's chief advisors, whose appointments were announced in October 2012. It is the IET's aim to expand on the number of section editors as the field develops.
Researchers whose papers are accepted for publication in The Journal of Engineering, or who wish to be published open access in an existing IET journal, will pay an APC of $1150 – a one-off payment, with no hidden extras, regardless of the length of the article. Waivers will be available for researchers in developing countries, determined using the criteria* set by Research4Life, which provides free or low-cost access to scientific journals, books and databases for scientists, practitioners, students and faculty in the developing world. Researchers in other territories who can demonstrate a genuine need will also be considered for waivers. There will also be discounts available for IET members.
Daniel Smith, the IET's Head of Academic Publishing, commented: "Announcing our APC and confirming the eight section editors is another significant step as we move towards the launch of The Journal of Engineering.  We are delighted to have engaged such a prestigious and international team.
"We have set our APC after a detailed and careful analysis of the market, at a level we believe is appropriate and will ensure the engineering content the IET publishes is made available to a wide audience."
For more information on The Journal of Engineering please visit: www.thejournalofengineering.org