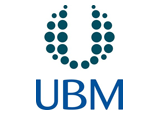 UBM plc today announces that it has appointed Adrian Barrick as UBM's Chief Content Officer. In this new role Adrian will work across UBM to develop a robust and compelling content strategy to support UBM's commercial and professional community-focused business development. Adrian will take up his role with immediate effect, reporting to UBM's CEO David Levin.
Over the course of the last two decades Adrian has built an unparalleled professional track record as a journalist, a publisher and as a media business leader. Adrian joined UBM in 1991 and was appointed editor of Building magazine, one of the UK's oldest professional titles, in 1996, having already established himself as an award-winning business news reporter and feature writer specialising in the built environment. Under his leadership Building won the PPA's coveted Magazine of the Year three times in five years and Adrian himself won four Editor of the Year trophies. As editorial director for UBM's Builder product group, Adrian launched a graduate training scheme whose alumni include two award-winning business title editors and several current national newspaper journalists.
Adrian first moved into a commercial role in 2004 and two years later he was appointed Group Director of UBM's Property & Construction Media, a £35m business with 200 staff. In 2007, he was named PPA business publisher of the year and Building won business website of the year. In 2008 he was appointed Chief Executive of UBM Built Environment and over the last four years has led its transformation from a print-based business into a content-led, multi-channel business. The business's traditional brands like Property Week and Building remain the voice of the UK's built environment community but are complemented and balanced by a wide range of events and data services serving professionals from across the built environment industries both in the UK and increasingly in emerging markets such Brazil and China.
The UBM Built Environment business will be merged into its sister division UBM Live under the leadership of Simon Foster, UBM Live's current CEO. The businesses will continue to be run separately but their combination will allow each to better access the strengths, expertise and experience of the other as their business development paths continue to converge. UBM Built Environment continues to internationalise its activities, particularly its events such as Ecobuild, while UBM Live continues to add content as key driver of its business. These ambitions are mutually supportive and both have content creation and community development skills at their core. This reorganisation closely parallels the successful reorganisation undertaken earlier in the year to integrate UBM's US technology businesses into UBM Tech and to bring the UBM Medica US and UBM Canon businesses together into UBM Connect.
Adrian Barrick, Chief Content Officer, UBM plc said:
"I'm really excited to take up the opportunity and challenge of being UBM's first CCO. UBM has a great flair for creating and curating high-value content. Our challenge is to deploy that capability to our competitive advantage. We believe that superior, original content will accelerate the development of our professional communities, giving us a significant edge over our rivals. I'm looking forward to helping UBM understand what content our communities really value and what skills we need to deliver it, as well as providing exciting career opportunities for our most talented content creators."
David Levin, CEO of UBM plc, said:
"I am delighted to announce Adrian's appointment to the role of UBM's Chief Content Officer. The creation of this new role recognises the key role high quality content creation plays in building successful professional communities and how content underpins and strengthens UBM's competitive position in its key markets.
The progression of Adrian's career makes him uniquely well-qualified to take on the Chief Content Officer role. Having been a multiple award-winning journalist and publisher he earned the respect of the community he and his brands served. He has complemented his experience of being deeply embedded in a professional community with his commerical experience as CEO of UBM Built Environment, leading its evolution from a business driven by print publishing to one which is powered by events and data services, and he has done so while retaining high-value content creation at the heart of his business and embedding its brands at the centre of the built environment community.
I am looking forward to working with Adrian as we put content creation at the centre of our community-focused business development, particularly for our events business where content must play an even greater strategic role in the future. Equally important is Adrian's role in developing and structuring career paths for our talented content creators."